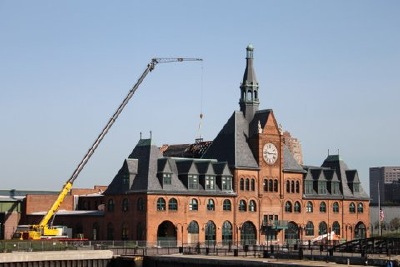 HISTORICAL RESTORATION OF THE CRRNJ TERMINAL BUILDING
Liberty State Park Jersey City, NJ

Owner
State of New Jersey
Trenton, NJ

Architect
LWDMR
Jersey City, NJ
Alice Deupree
(201) 333-5017

The historic Central Railroad of New Jersey Terminal (CRRNJ), a grand setting for much of New Jersey's transportation history in the northeast, sits prominently at the north end of the park. A two-mile promenade, Liberty Walk links the picnic area, Interpretive Center and the CRRNJ Terminal while presenting visitors with a sweeping view of the Hudson River. The Central Railroad of New Jersey, also known as the Jersey Central or Jersey Central Lines, was a Class I railroad with origins in the 1830s. The project consisted of repair, replacement and restoration of building roof system, flashing, dormers, fascias & soffits, gutters & leaders, decorative trim, tower, roof top caps & Finials, dormer siding, parapet copings, new lightning protection system, repair/restore 3rd floor ceiling, repair/reconstruct/restore damaged brick walls/windows/doors, reconstruct/stabilize existing Hutchinson Conductors' Boxes, and repair/replace/re-glaze existing skylights.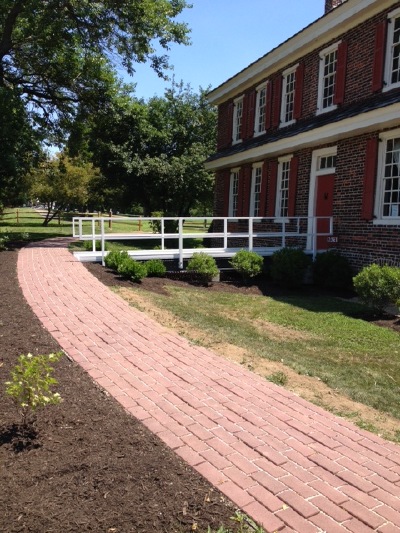 ACCESSIBILITY IMPROVEMENTS TO JAMES AND ANN WHITHALL HOUSE
Red Bank Battlefield
National Park, NJ

Owner
Gloucester County Park Dept.
Clarksboro, NJ

Architect
Westfield Architects
Haddon Heights, NJ

The James & Ann Whitall House is an 18th century historic house, located on the Delaware River. The 44 plus acres park provides a passive recreational area, riverside walking paths, playground equipment and picnic pavilions. This is the historic site of Fort Mercer, one of the twin military installations which guarded the Philadelphia harbor and all communities north of Philadelphia along the Delaware River during the American Revolution. Across the river, on the Pennsylvania side, was Fort Mifflin. James Whitall sold his plantation on Timber Creek in 1699 and purchased the plantation at Red Bank. In 1748 he built his home of brick which is now known as the Whitall Mansion. The goal of this project was to provide barrier-free access route from the public parking lot and public walkways to the interior of the Whitall House main floor level via grade pathways and a raised walking surface to the river-side entry door.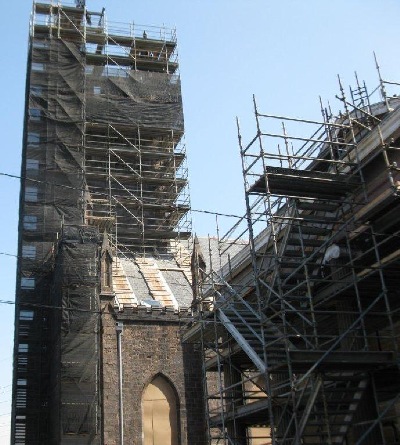 PHASE II RESTORATION ST PETER THE APOSTLE
New Brunswick, NJ

Owner:
St Peter the Apostle
New Brunswick, NJ

Architect:
Historic Building Architects

Saint Peter The Apostle consists of three buildings; the Church, Convent and Rectory. The Church is located in the center at 98 Somerset Street on the Rutgers University Green. The Church has been worshiped in since 1865. The original Church was damaged by a tornado in 1835. Patrick Keeley, was the Architect for the Church. The architecture of the Church consists of its tall square tower and its large gabled roof over the rectangular Sanctuary. The Church is made up of roughly dressed brownstone with some ashlar finished pieces. The Rectory is a two-and-a-half story, four-bay, gabled-front Greek Revival frame dwelling with a two-story flat-roofed portico spanning the front facade. The Convent was not included in our work scope and was renovated in 2010 as the Campus Catholic Center. Our scope of work included Extensive sitework, new footing, rebuild retaining wall, rake out, repoint, and restore all masonry at Tower and Sanctuary, repair existing stucco, install bluestone paving, replacement of failed stone, resetting of unstable stone, stone retooling, structural priming of finials, plywood roof decking for Tower, miscellaneous blocking, remove existing BU flat roof and install new cold liquid applied roof, new flashing, scupper and parapet, remove asphalt shingle roof and replace with standing seam LCC roof, repair and replace windows, historical painting, restore woodwork on stained glass windows, paint tower louvers, plumbing and electrical work.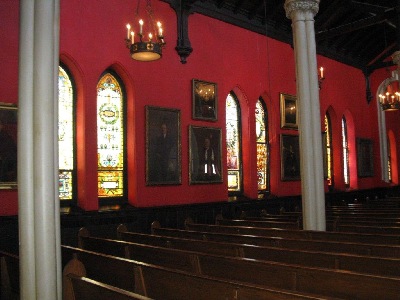 STAINED GLASS & INTERIOR RESTORATION
KIRKPATRICK CHAPEL
New Brunswick, NJ

Owner:
Rutgers University
New Brunswick, NJ

Architect:
Holt Morgan Russell
Princeton, NJ

The Sophia Astley Kirkpatrick Memorial Chapel was constructed in 1873 by Architect Henry Janeway Hardenbergh. He was the great-great grandson of Jacob Rutsen Hardenbergh, the first President of Rutgers College. The Chapel was built in memory of Sophia Astley Kirkpatrick, trustee of Rutgers College from 1841-1859. Kirkpatrick Chapel is located on the historic Old Queens Campus of Rutgers University in New Brunswick, NJ. The Building served as the main library of Rutgers College from 1880 until 1904 when Voorhees Hall was built. The scope of work involved restoration of stained glass, exterior historic millwork replication and restoration, stone masonry restoration, roof replacement, and interior finish restoration.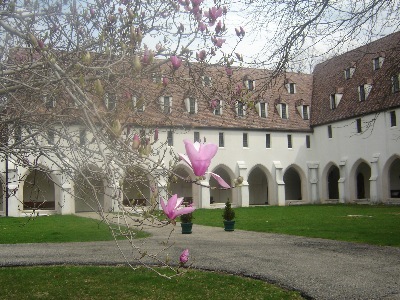 EXTERIOR RESTORATION OF THE CONVENT AT THE COMMUNITY OF ST JOHN BAPTIST
Mendham, NJ

Owner:
Community of St John Baptist

Architect:
Historic Building Architects

The Convent at the Community of St. John Baptist is historically significant for its representation of ecclesiastical architecture and design landscape for the period 1907 – 1946. The original date of construction is 1890. The work completed on this project was limited to the Convent Building designed by Architect, William Wade Cordingley and Architect/Artist, Durr Freedley, as an early rare example of French Eclectic style in America. The design of the Convent is simple and restrained in ornamentation. The work consisted of: restoration of concrete roof deck, restoration of historical railings, doors, and hardware, regrade/rebuild terrace at Bay 19, install new paths for access ramp, upgrade electrical service, repair tunnel water lines, new access path in parking lot, fill tunnel with concrete, install retaining walls at end of tunnel, masonry repointing/repair/cleaning of chimneys, repair metal deck and concrete roof, install metal ramp to access Chapel, repair dormer roof framing, new tile roof installation, new flashing, downspouts, gutters, alter existing and install new doors, and historical window restoration.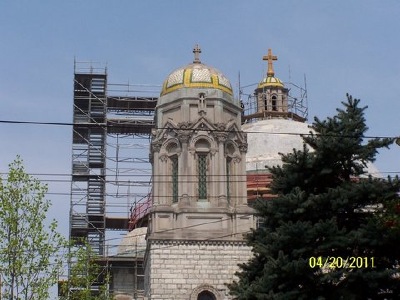 BUILDING REHABILITATION PROJECT ST. FRANCIS de SALES PARISH
Philadelphia, PA

Owner:
St Francis de Sales Parish and Most Blessed Sacrament Parish
Philadelphia, PA

Architect:
Historic Building Architects
Trenton, NJ

The original date of construction was between 1907 and 1911. Henry D. Dagit, a Philadelphia Architect, is responsible for the design of the Church and the detailing of the lower portions and interior of the structure. The roof vaults and domes of the Church were designed and constructed by the R. Guastavino Company between 1908 and 1911, using their patented system of laminated thin tile construction. It is believed to be the only exposed Guastavino tiled dome system completed in the United States. The work consisted of historical concrete repairs/restoration to the main Dome, historical railings/ladders/doors, the repair and replacement of below grade drains, patching of existing concrete on Main Dome, and Domes 4 and 5, rake out, repoint and rebuild Main Dome brick drum, Maine Dome octagon base, stone and brick walls at Dome 4 and 5, reset terra cotta at cornice of Main Dome and dome base roofs, cleaning of masonry to remove tar and sealant, install new stainless steel rod at lantern to re-attach cross, install new structural steel at Domes 4 and 5, wood blocking and decking for new flat pan metal roofs, installation of historical railings/ladders/doors, new flat pan metal roofs at all pendentive roofs, new built-in gutter at Main Dome, new stepped flashings, new copper downspouts, scuppers, and conductor heads, new copper flashing at the dome base roofs and Domes 4 and 5, installation of new skylight in existing frame, apply silicate paint to concrete on Main Dome and Domes 4 and 5.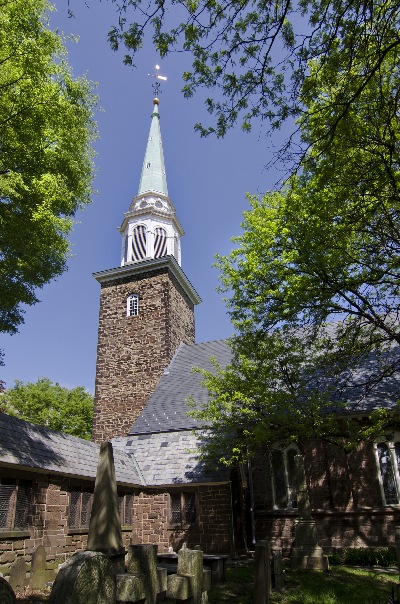 PHASE 2 RESTORATION OF CHRIST CHURCH
New Brunswick, NJ

Owner:
The Rector Church Wardens & Vestrymen of Christ Church
New Brunswick, NJ

Architect:
Historic Building Architects
Trenton, NJ

The history of Christ Church of New Brunswick extends over almost three centuries. The church parish was formally established in 1742 by the Church of England. A deed to Christ Church dated December 25, 1745 records a 2,000-year lease on the church property. Philip French owned the original parcel of land on which the church is situated and it is his name that appears on the deed. King George III of England signed the Christ Church Charter of Incorporation in 1761. Christ Church played host to several key national events both in the political realm and religious sphere in the 18th century. It is believed that the third public reading of the Declaration of Independence occurred on the church's steps in 1776. In 1785, the first convention of the Episcopal Church in New Jersey was held at the church. The second New Jersey State Convention gathered on its grounds in 1792 (Rutgers University 2004). The construction of the original sanctuary spanned a five year period from 1745 to 1750. In 1773, the steeple and tower were added to the main church building. In February of 1803, the church spire was struck by lightning. In 1852, all but the church tower and steeple were razed and rebuilt, although it was not until 1916 that the church was fully renovated. In 1927 the church steeple burned in a fire. A cemetery occupies most of the property to the west and north of the church, as well as throughout the courtyard. The Scope of Work includes the following, Remove sidewalks and swales, regrade, installation of new below grade storm water drains, installation of downspouts, new sidewalks and gravel paths, Archaeological assessment of ground disturbances, repoint joints in brownstone walls on Sanctuary, clean and restore Masonry, repair and replace failed brownstone sills on Choir Building, repair and restore painted wood trim along building eaves/gables, new ramp is Cloister, remove existing slate roofs and install new, new lead coated copper flashing at new slate roofs, new gutters and downspouts, historic wood window restoration, installation of glazed door in the Cloister, upgrade existing light fixtures and installation of new track lighting, miscellaneous upgrades to the electric service.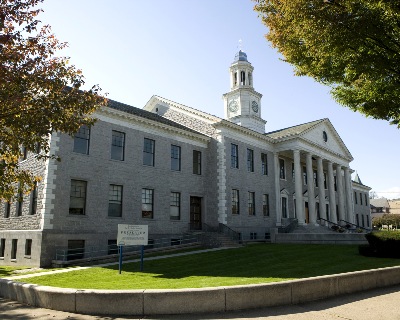 Alterations to the Hartley Dodge Memorial
Madison, NJ

Owner:
Borough of Madison
Madison, NJ

Architect:
Holt Morgan Russell Architects
Princeton, NJ

The building is listed on the State and Federal register of Historic Places and features a high level of exterior and interior finishes. The project consisted of construction of new elevators and ramps to provide building accessibility, conversion of the existing fire apparatus bays to new court/meeting facilities, alteration of additional areas with the building, alteration and restoration of existing building finishes including marble, terra cotta, ornamental metals, plaster and decorative finishes, installation of new electrical, HVAC, fire suppression and alarm systems, installation of new telecommunications and security systems, exterior restoration of roof drainage systems and exterior pavements, asbestos abatement, and removal of an existing communications tower.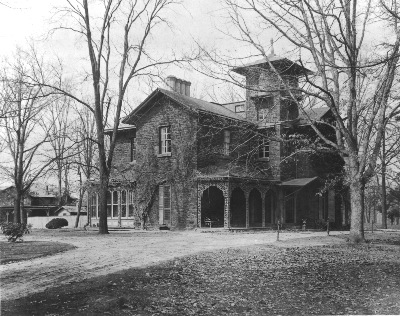 RESTORATION OF HOLLYBUSH
Glassboro, NJ

Owner:
Rowan University
Glassboro, NJ

Architect:
Ford Farewell Mills & Gatsch
Princeton, NJ


Merrell & Garaguso, Inc. received Construction Excellence Award for Best Historic Restoration Project, presented by the GBCA. The review agency for this project was the N.J. Historic Trust. Holly Bush was built in 1849 as a residence for the industrialist, Thomas Whitney, and his family. It became the campus for Glassboro Normal School in 1923, which later became Glassboro State College, and is now Rowan University. In 1967, Holly Bush was the site of the Summit meeting between President Lyndon B. Johnson and Premier Alexei Kosygin. Formerly, the residence of the Presidents of the University, it now hosts public receptions and special events for the University. Holly Bush continues to serve as a Museum and Hospitality Center.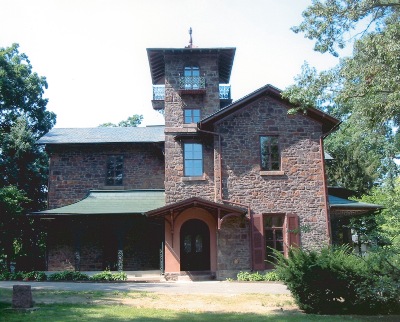 THE TRENTON WAR MEMORIAL
Trenton, New Jersey

Owner:
State of New Jersey
Trenton, NJ

Architect:
The Vitetta Group
Philadelphia, PA


The original date of construction was 1918. The project included interior restoration including structural repairs, plaster, wood, and painting. The project was reviewed by the N.J. Historic Trust.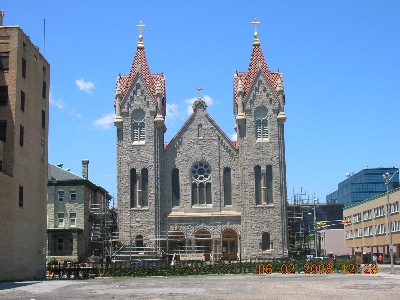 EXTERIOR RESTORATION ST. NICHOLAS TOLENTINE CHURCH
Atlantic City, NJ

Owner:
St. Nicholas Tolentine Church
Atlantic City, NJ

Architect:
Holt Morgan Russell
Princeton, NJ


Founded in 1855, this majestic Church is a sight to behold. From the time you enter until you depart, you will be in awe of the architectural splendor of the artistry. The Romanesque style parallels the Cathedrals and Basilicas of Europe. The exterior restoration scope of work included new clay tile roofing, replacement of copper flashing and gutters/exposed fascias and cladding, carpentry repairs to built-in gutters and roof sheathing, stone masonry restoration, terra cotta masonry restoration, architectural mill work and wood window restoration, new built-up flat roofs, exterior scaffolding for completion of work for us and all subcontractors, and site restoration.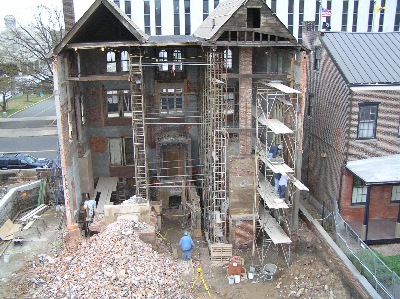 ROEBLING MANSION
Trenton, NJ

Owner:
NJ State League of Municipalities
Trenton, NJ

Architect:
Clarke Caton Hintz
Trenton, NJ

This structure is the last remaining Roebling Mansion still standing in the City of Trenton. The original date of construction was 1856. It was the home of Ferdinand Roebling who, with other members of his family, owned four mansions on West State Street starting in the mid-1800's. The John A.Roebling's Sons Company was instrumental in making Trenton a center of industry. They provided the wire rope used in historic bridges and buildings throughout the United States. Ferdinand Roebling was the son of John A.Roebling, the founder and brother of Washington Roebling, builder of the Brooklyn Bridge. His primary role in the company was marketing the various products; he served as the Secretary/Treasurer and Vice President. Project consisted of the complete exterior restoration of the original structure, extensive interior restoration and renovation of the existing structure, and construction of an 11,000 s.f. steel framed office addition with new fire stairs, elevator and restrooms. Exterior work included stripping and replacement of the stucco finish, wood window replacement, restoration of existing leaded glass window assemblies, limestone and brick cleaning/repair,new asphalt shingle roofing, decorative cast iron repair. Interior restoration included repair and replacement of existing hardwood flooring, repair/restoration of existing millwork, ornamental plaster repair/replacement, and new HVAC, electric,plumbing and fire suppression systems throughout. The new addition has a steel framed structure with concrete floor on metal decking, light gauge steel frame exterior walls with gypsum sheathing, insulation, and stucco and brick veneer, asphalt shingle and EPDM roofing, and wood windows. A variety of floor finishes, including carpet, ceramic tile and VCT were including this project.